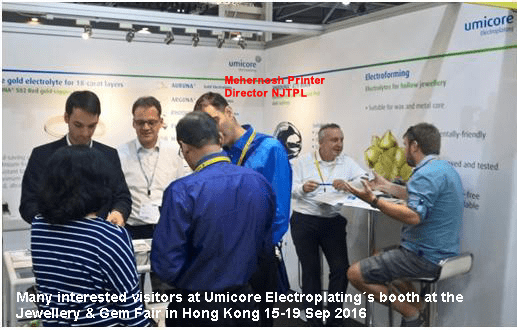 Umicore Electroplating is very satisfied with the visitor response during the "Jewellery & Gem Fair" in Hong Kong from September 13 to 17. A lot of guests informed themselves, among others, about RHODUNA® 470 Black. The new black rhodium electrolyte produces deep black coatings. An L-value of less than 40 in the CIEL*a*b* colour space is possible. Currently commercially available electrolytes usually only reach values ​​of about 50. This corresponds to a dark anthracite merely.
At the Jewellery & Gem Fair Umicore Electroplating was a partner of the German Pavilion. This joint booth was sponsored by the German Federal Ministry of Economics. In Hong Kong visitors also got know how on many other processes of Umicore Electroplating for jewellery. These include AURUNA® 502 for rose gold surfaces, RHODUNA® Diamond Bright for white rhodium layers and the tarnish protection Umicore Antitarnish 616 PLUS.
Besides RHODUNA® 470 Black Umicore Electroplating offers more electrolytes to produce black layers, for example, RUTHUNA® 490. The black ruthenium electrolyte can be directly deposited on copper, nickel, brass or bronze. A pre-goldplating or precoating with palladium or a palladium alloy is not necessary. Therefore, the costs are significantly reduced. RUTHUNA® 490 is suitable for rack and barrel operation.