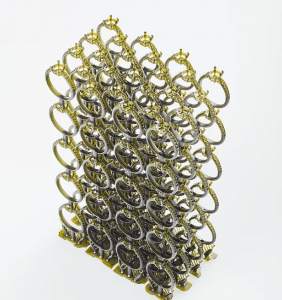 EVERES GREEN CAST, for exceptional resolution of details.
Very high resolution resin suitable for direct casting in jewellery.
With a high reticulation speed and an excellent surface finishing, EVERES GREEN CAST offers optimal burn-out performances with extremely low thermal expansions. EVERES GREEN CAST has been designed to create models that require exceptional detail resolution, resulting extremely appropriate for filigrees models as well as clicksettings and microsettings.
Compatibility : EVERES ZERO, EVERES UNO.
Suitable for : direct casting, lost wax casting.
Advantages : high curing speed, high resolution, low thermal expansion, clear burnout.
CONTACT US
Schedule Meeting