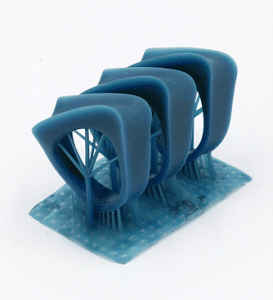 EVERES BLUE WAX, wax burnout cycle, ideal for casting very large objects.
It adapts perfectly to the standard lost-wax casting process, from the firing cycle to the types of compatible plaster. EVERES BLUE WAX has a standard burnout cycle used for waxes with an almost non-existent ash residue. With an excellent surface finish, EVERES BLUE WAX has been designed for creating particularly bulky and large castable models. It can limit any expansion that can impair the piece's geometry, or compromise the plaster, during the burnout process.
Compatibility : EVERES ZERO, EVERES UNO, EVERES VARIO
Suitable for : lost-wax casting.
Advantages : high resolution, limited thermal expansion, burnout like wax, standard plaster.
CONTACT US
Schedule Meeting