About Heraeus
Heraeus, the technology group headquartered in Hanau, Germany, is a leading international family-owned portfolio company. The company's roots go back to a family pharmacy started in 1660. Today, the Heraeus group includes businesses in the environmental, electronics, health and industrial applications sectors. Customers benefit from innovative technologies and solutions based on broad materials expertise and technological leadership.
In the 2019 financial year, Heraeus generated revenues of €22.4 billion with approximately 14,900 employees in 40 countries. Heraeus is now one of the top 10 family-owned companies in Germany and holds a leading position in its global markets.
About Heraeus Precious Metals
Heraeus Precious Metals is a leading provider of precious metals services and products. We combine all activities related to our comprehensive expertise in the precious metals loop – from trading to precious metals products to recycling.
We are one of the world's largest refiners of platinum group metals (PGMs) and a leading name in industrial precious metals trading. Our precious metals products are used in a wide variety of industries, including the chemical, pharmaceutical, glass, electronics and automotive industries. We offer top quality solutions and products based on many years of experience and technical expertise. We are a reliable development partner for our customers and find the best solutions for their requirements.
With our eleven production and four trading sites in all relevant time zones, we offer our customers a global production and logistics network. Trust and reliability, strict adherence to leading compliance standards, transparency and our financial stability have formed the foundation of our business for more than 160 years.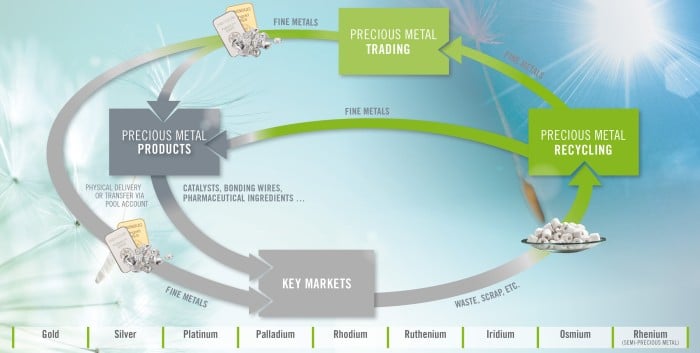 CONTACT US
Schedule Meeting